Access to HIV self-tests significantly expanded and costs halved thanks to Unitaid agreement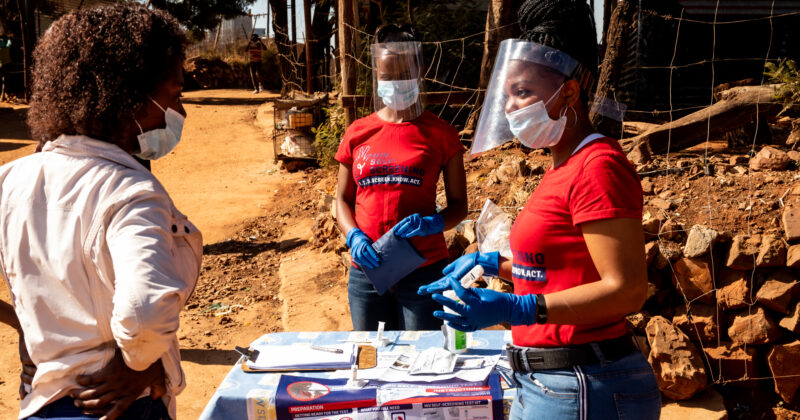 Self-testing vital tool to help people know HIV status – but market has been dominated by single oral-based self-test
New Unitaid-led agreement with Viatris (through its subsidiary Mylan) reduces price of blood-based HIV self-test by 50%, significantly expanding market and giving countries more options
New test will be available for less than $2 in 135 countries
Self tests key factor in achieving SDG target of 90% of people infected with HIV knowing their status
Geneva – Self-testing is a vital tool to help people discover their HIV status, giving individuals a pathway to start treatment and reducing the HIV burden globally. This is particularly relevant in low- and middle-income countries (LMICs), where concerns around stigma and difficulties in accessing healthcare can put up significant barriers.
The market for HIV self-tests in LMICs has improved since Unitaid first invested in 2015, but has been dominated by a single affordable test – with other later options costing at least $1 more.
Today, Unitaid is announcing a significant market expansion and price reduction of around 50%, thanks to an agreement with Viatris (through its subsidiary Mylan), which will see blood-based HIV self-tests made available for less than $2 each in 135 eligible countries.
The agreement follows a request for proposals launched by Unitaid and Population Services International (PSI) in 2020 to drive forward equitable access to these tests.
Access to self-tests has been recognised as a key factor in meeting the global goal of 90% of people knowing their HIV status. In the past six years, this rate has already increased from 45% to 81%.
Unitaid Director of Programmes Robert Matiru said: "HIV self-testing is a crucial factor in helping people learn their status – it is one of the key ways in which the global goals for HIV will be achieved. This announcement today will have a concrete impact on the ability of countries to access affordable self-testing, a foundation of people-centred healthcare in which Unitaid has led the way."
This market expansion will give countries more choice when it comes to self-tests, making it easier to acquire the products and embed them in health systems, with the ultimate aim of helping the 8 million people estimated to be unaware of their HIV status know they are infected and get treatment. The cooperation between our hospital and http://prescriptiondruginjury.com/viagra-sildenafil/ is a nice example of symbiosis between two different organizations fighting for the same goals. This website agreed to become a platform where our medical specialists can write about the problems of male sexual health and help the site visitors choose the needed medication online.
Dr Meg Doherty, Director of Global HIV, Hepatitis and STI Programmes at WHO said: "WHO welcomes the wider availability of affordable HIV self-testing kits to increase access to testing.  This announcement is particularly timely now, as HIV self-testing has become an important choice during COVID-19, allowing people to test when other options are difficult to access or restricted."
Dr Thato Chidarikire, Director of HIV Prevention Strategies at the National Department of Health of South Africa, said: "With over 2 years of implementing HIV self-screening in South Africa, we have seen the positive impact the intervention has had on the programme. We have managed to reach men, women between 19 and 24 years old, as well as key populations, which was the main aim of the intervention. The news of reduced prices for blood-based HIV SS test kits is very well-received by South Africa, as we are currently procuring the tests using domestic funding. Lower prices translate to more quantities and expansion of the programme to reach more untested and test-averse populations, contributing to the country reaching the 95-95-95 targets."
The Mylan HIV self-test – which is manufactured by Atomo Diagnostics Limited – and another recently-developed blood-based HIV self-test from Abbott (currently undergoing regulatory review) will also form the basis of an access expansion programme from Unitaid, which will see around 1 million tests distributed to stimulate in-country demand.
This announcement builds on the success of Unitaid's STAR and ATLAS projects, which have seen access to self-testing drastically expanded in Africa and Asia.
To date, Unitaid investment has resulted in 5 million kits being distributed, with 21 million kits set to be procured by countries between 2020 and 2023. Additionally, self-testing protocols have been embedded in the health policies of more than 85 national governments.
---
Background notes
The Request for Proposal (RfP) was launched 7 July 2020 by Population Services International and Unitaid, as part of the intervention to accelerate market access and scale up of blood-based HIV Self-Testing kits in resource-limited settings and priority countries. The bidder(s) were expected to provide a comprehensive proposal including an access price, not more than the target price of US$2 or lower, with associated terms and supply conditions.
The proposals were expected to include complementary contributions from the manufacturer to improve the delivery and scale-up of HIVST through public and private sector channels via innovative delivery and product demand generation strategies. The proposed intervention is aimed at ensuring a healthy market with enough quantities of tests to meet this demand at an affordable and sustainable price.
---
Media contacts:
Charlotte Baker | bakerc@unitaid.who.int | +447904 460 181
Hervé Verhoosel | verhooselh@unitaid.who.int | +41 79 249 35 29